New York Innovation Conference
The Future Moves Fast, You Can Too - Prototype the future at Trend Hunter's one-day New York Innovation Conference.
Related Innovation Events: Atlanta Innovation Conference, Chicago Innovation Conference, Los Angeles Innovation Conference, Minneapolis Innovation Conference, Seattle Innovation Conference, Toronto Innovation Conference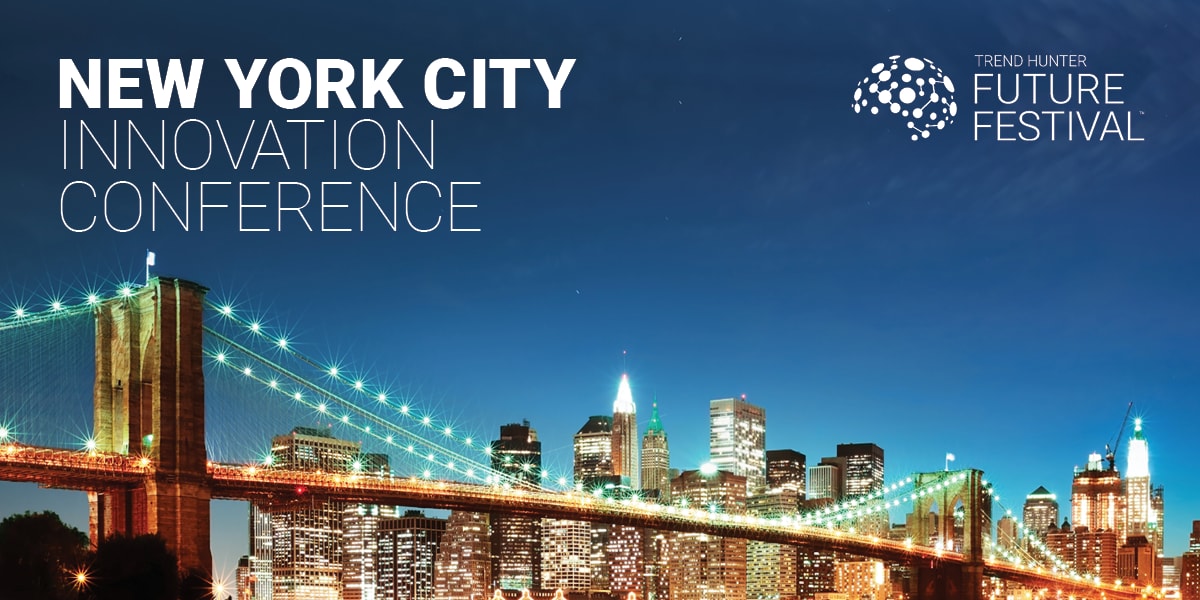 Why Attend the New York Innovation Conference?
With so much change happening, the future can be downright frightening without a strategy to stay on top. At our New York Innovation Conference, we'll arm you with the latest trends and most impactful insights, drawn from the world's #1 trend platform, so you can build an innovation strategy that keeps you ahead of this fast-moving market. During our innovation conference, you'll learn how to disrupt your thinking, take advantage of opportunity, and better adapt to change through a set of takeaway-focused keynotes delivered by our Futurist team.
Why Bring Your Innovation Team?
Bring your team along for this one-day training event to drive cohesion, develop your working relationships, and align your ideas as you look to the future. This is our best New York conference on innovation and is the perfect place for you and your team to expand your horizons and connect with an exclusive network of like-minded innovators across an array of industries. In doing so, you can help cultivate a culture of innovation that your business will rely on as you look ahead to the chaotic coming months of post-pandemic opportunity.
Why Visit New York?
While staying in New York, we'll provide you with a handful of select hotspots that will inspire your inner Trend Hunter and immerse you in unforgettable experiences. From unrivalled classics like the Museum of Modern Art to niche locales like the vegan restaurant Dirt Candy, there's something for everyone in the city that never sleeps.
Who is This Innovation Conference For?
Our New York Innovation Conference is our top event for innovation leaders that are looking to transcend norms and transform business. Whether on the cutting edge of product development or at the spearhead of strategy, those thinking about what's next won't want to miss out on the future-focused content at this event.

"Future Festival is a must attend for any innovator. Immediately actionable insights, inspiring content, and great opportunity to connect with the innovation community and peers." Senior Director, Innovation
Check out some of the brands that have attended our conference!



Register now for the New York Innovation Conference to stay ahead of the innovation curve.