Our Top New York
Innovation Conference
Join the top innovators in New York to explore future trends & prepare for the years ahead.
97% rate it higher than any other innovation conference.

Our New York Innovation Conference is an exclusive innovation event that takes all of the essential information from our three-day festival in Toronto and packs it into one accelerated program. Over the course of one action-packed day, you will learn about future trends, key consumer insights, and disruptive innovations that will cause major industry shifts. We will help you stay ahead of competitors and anticipate these changes with our groundbreaking frameworks and workshops." – Jeremy Gutsche, CEO & NY Times Bestselling Author
WHAT'S DIFFERENT?

Our 1-day innovation conferences are immersive, takeaway-focused training events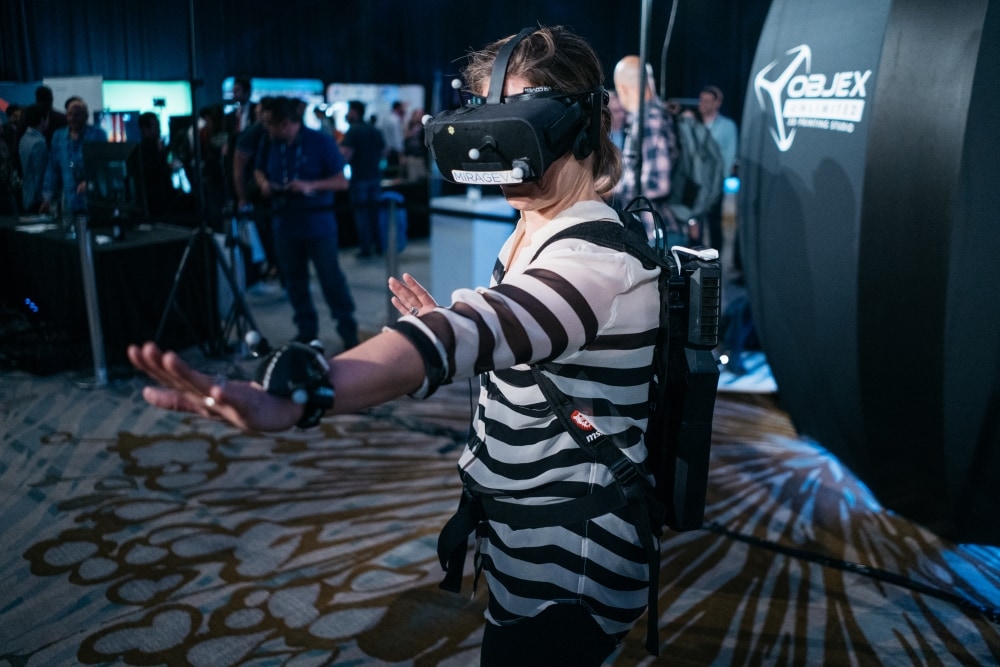 COST-EFFECTIVE 1-DAY
vs.
DAYS AWAY FROM WORK
100+ DATA-DRIVEN INSIGHTS
vs.
OUTDATED MATERIAL
DOWNLOADABLE PRESENTATIONS
vs.
TAKE-YOUR-OWN NOTES
INDIVIDUAL ASSESSMENTS
vs.
GENERIC CONTENT
ONE-ON-ONE ADVISOR TIME
vs.
LACK OF FOLLOW-UP
ENERGETIC & ACTIONABLE
vs.
RANDOM & OUTDATED
Learn More
Our NYC Innovation Conference Event
Our New York Business Conference will combine the best of our trend research and innovation strategies into one immersive, takeaway focused training event. It will kick off by diving into Jeremy Gutsche's best content, highlighting data-based trend modules designed to help you and your team approach business innovation from a new perspective. Learn how industry shifts and emerging trends are accelerating the pace of change, as our keynote speakers cover evolutions in retail, marketing, work culture, consumer desires, and much more. Best of all, you will walk away with $4000 in takeaway materials to easily share your learnings with colleagues following the event as you create the future.
Navigate Chaos With Our New Double-Book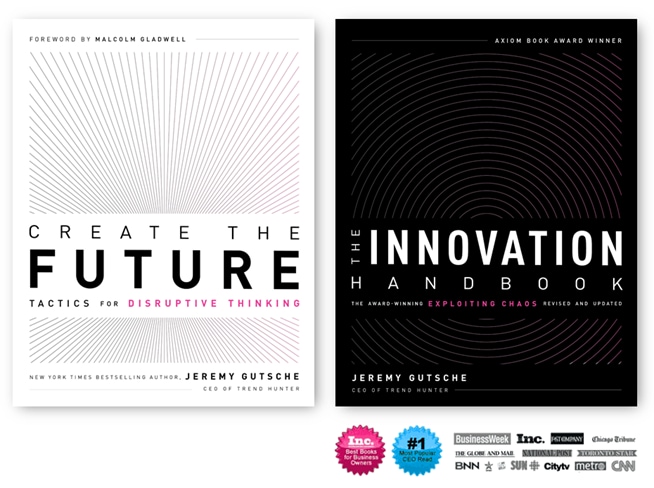 Create The Future + The Innovation Handbook: Tactics for Disruptive Thinking
Learn to navigate chaos with our tactical guidebook for disruptive thinking, innovation, and change. The new double-book includes The Innovation Handbook, an updated version of the award-winning bestseller: Exploiting Chaos.
In our era of rapid change, disruption and possibility, there are endless opportunities within your grasp. Everyone wants innovation, but most people don't know how to make it happen, frequently falling into common neurological traps that lead to missed potential. How does one avoid these traps in order to attain true success?
Watch The Keynote
Buy Now
Why visit? We'll suggest more than a dozen innovation hotspots for you to explore following the New York Retail Innovation Conference
New York has a variety of innovative businesses and rich cultural sites to explore following our Retail Innovation Conference event. Following the conference, visit cultural hotspots such as the
Museum of Modern Art
or the
Metropolitan Museum
to see works from the world's greats. Follow up your museum visit with a game and a cocktail at
the Royal Palms Shuffleboard Club
in Brooklyn, or take in some bowling and arcade games at
Bowlmor
. After your day of exploration, head to dinner at
Dirt Candy
, a vegetarian tapas restaurant that is changing the face of good-for-you food.
Plus, explore a dozen more unique hotspots in New York with our exclusive Retail Innovation Conference workbook!
Schedule for New York 2020

Tickets are not currently available for this event.