Our Festival: The Toronto
Innovation Conference
On September 27-29, join the world's top innovators at our signature 3 day trend conference.
97% rate Future Festival as the best innovation conference


Our Toronto innovation conference is our marquee Future Festival event, designed to be the "World's Best Innovation Conference". Over 700 attendees come together to prototype their future. While most attendees come from all over the globe, Toronto, Canada is our HQ city with trend safaris, workshops and thought leaders. If you are free to choose, we highly recommend the Canadian conference versus any other city event because it is the complete 3 experience." – Jeremy Gutsche, CEO & NY Times Bestselling Author
WHAT'S DIFFERENT?

Unlike other conferences, the Festival is a highly-choreographed, takeaway-focused immersion

EXPERIENCE THE FUTURE vs. PASSIVELY LISTENING
30 CORE CONCEPTS vs. DISJOINTED MATERIAL
DOWNLOADABLE PRESENTATIONS vs. TAKE-YOUR-OWN NOTES
PERSONAL ASSESSMENTS vs. GENERIC CONTENT
ONE-ON-ONE ADVISOR TIME vs. LACK OF FOLLOW-UP
100% ENERGETIC & ACTIONABLE vs. RANDOM & OUTDATED
CULTURAL SAFARIS vs. VENDORS
WORKSHOPS WITH YOUR TEAM vs. LIMITED TAKEAWAYS


Download a Brochure
Our Toronto Innovation Conference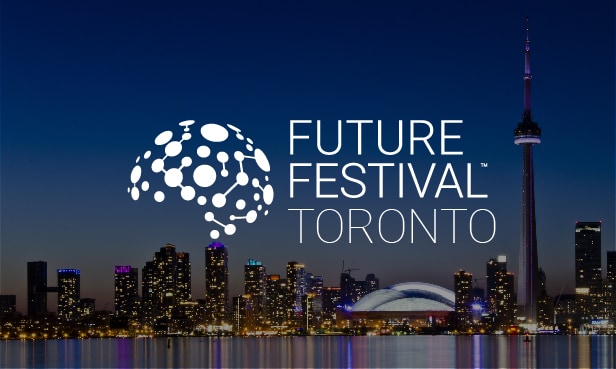 Future Festival will begin with immersive trend conference safaris in the afternoon and end off with a Future Party complete with some of the hottest new tech releases to demo. Your second day at the Canadian innovation conference will be content-focused, diving into Trend Hunter's 6 Patterns of Opportunity and exploring some of the key drivers of new trends emerging for 2018 and beyond. The last day of our Toronto innovation conference will be focused on driving action from insight in application workshops to help you prototype 5-10 key ideas to bring back with your team. In the afternoon, more safaris will help to immerse you in some of the trends we explored, giving you a hands-on opportunity to learn, examine and be curious.
Learn More
Arrivals & Safaris
Wednesday Sep 27
8:30am @ Hyatt Regency
Flexible Arrivals (for Flights)
1 on 1 Meetings
Networking Ice Breakers
Self-Guided Expeditions
1pm @ TIFF Theater
Kick-off Keynote
1:30pm – 5pm
30+ Trend Safaris
at Mystery Locations
5:30pm @ Hyatt Regency
Future Party With Tech, Robots, Cocktails and an Open Bar
Conference Day
Thursday Sep 28
7am @ TIFF Theater
Delicious Breakfast
8am – 12pm
Innovation Keynote
Megatrend Keynote
4 Trend Keynotes
12pm – 1pm
Lunch
1pm – 5pm
Trend Keynotes
5pm @ Secret Location
Conference After-Party @ TBD
Workshop Day
Friday Sep 29
8am @ Hyatt Regency
Delicious Breakfast
9am – 1:30pm
Innovation Workshops
With Your Team
1:30pm – 5pm
30+ Trend Safaris
@ Mystery Locations
5pm @ Trend Hunter HQ
After-After Party: Cocktails & Robots
at Trend Hunter HQ
Optional Weekend
Sep 30 - Oct 1
SELF-GUIDED TOURS
100+ Innovative Locations Curated by Trend Hunter, including: The (Unofficial) Harry Potter Bar, Paint Lounge (with Wine), Ripley's Acquarium, Foodie Tours, and More.
Sunset to Sunrise
Nuit Blanche, a 1,000,000+ Person All-Night Art Festival With Building-Sized Art, Technology and Entertainment
Why stay the weekend in Toronto? We'll suggest 100+ experiences PLUS there's a 1,000,000 person all-night building-sized art festival
KEYNOTE LOCATIONS The TIFF Bell Lightbox is an iconic theatre at the heart of downtown Toronto, and is home to the world-renowned Toronto International Film Festival. This is where our Toronto innovation event will be holding its presentations and revealing top trends of 2018 and beyond.

STARTING LOCATION & HOTEL Our Future Party will take place at the modern Hyatt Regency hotel next door to the TIFF Lightbox Theatre, so get ready to play with the latest gadgets, toys and experience the future of flavor!


Looking to explore Toronto trends & innovations?
If you're not from Toronto and are visiting for our Toronto innovation conference, you're in for a real treat. There are dozens of hot spots that each of our staff can recommend, or you can just check out our Future Festival booklet upon arrival to get over 100 recommendations of the best things to see, taste, touch and experience. A few highlights include Blue Banana in Kensington Market, which features a variety of local artist shops as well as Bellwoods Brewery in the trendy Ossington area. If you stay the weekend there is a 1,000,000 person all-night building-sized art festival that takes over the streets.

ACT SOON


1. Last Chance to Save = August 15

2. Select Your Safaris Before it's Too Late

3. Tickets Will Sell Out


Los Angeles
Conference
March 7

New York
Conference
March 14

Chicago
Conference
March 16

London
Conference
March 30

Orlando
Conference
April 6

Toronto
2016 Festival
TOO LATE

Toronto
Festival
Sep 27-29, 2017

Non-Client -
(FREE: Includes 1 Year of Trend Hunter PRO, worth $3,900)
$3,199 US $2,799 US / ticket (save 13%)
Client Check if I'm a Client [HERE]
$3,199 US $1,399 / ticket (save 78%)
Buy Team Tickets VIP Team Ticket - Buy 5 Get 1 Free
$3,199 US $2,333 / ticket ($13,995 total = save 30%)
88% recommend attending with a team of 6+ people. Here's why:
• TEAM WORKSHOPS -
Work on 5-10 disruptive ideas for your brand
• VIP LUNCH -
Send 1 VIP to a special innovation conference lunch
• RISK FREE -
If you become an Accelerator, deduct this fee
NOTES: Brands only and no vendors. All innovation conference ticket sales are final. Fee includes: breakfast, lunch, snacks, drinks, hors d'oeuvres, the trend book, trend reports and admission fees to the trend conference safaris noon till the end of the workday on Friday. Early Bird expires August 15.