"THE WORLD'S BEST INNOVATION CONFERENCE"
March 2017 in London, NYC, Chicago, Orlando, Las Vegas, Los Angeles, Toronto
85% rated it the "best business event they've ever attended."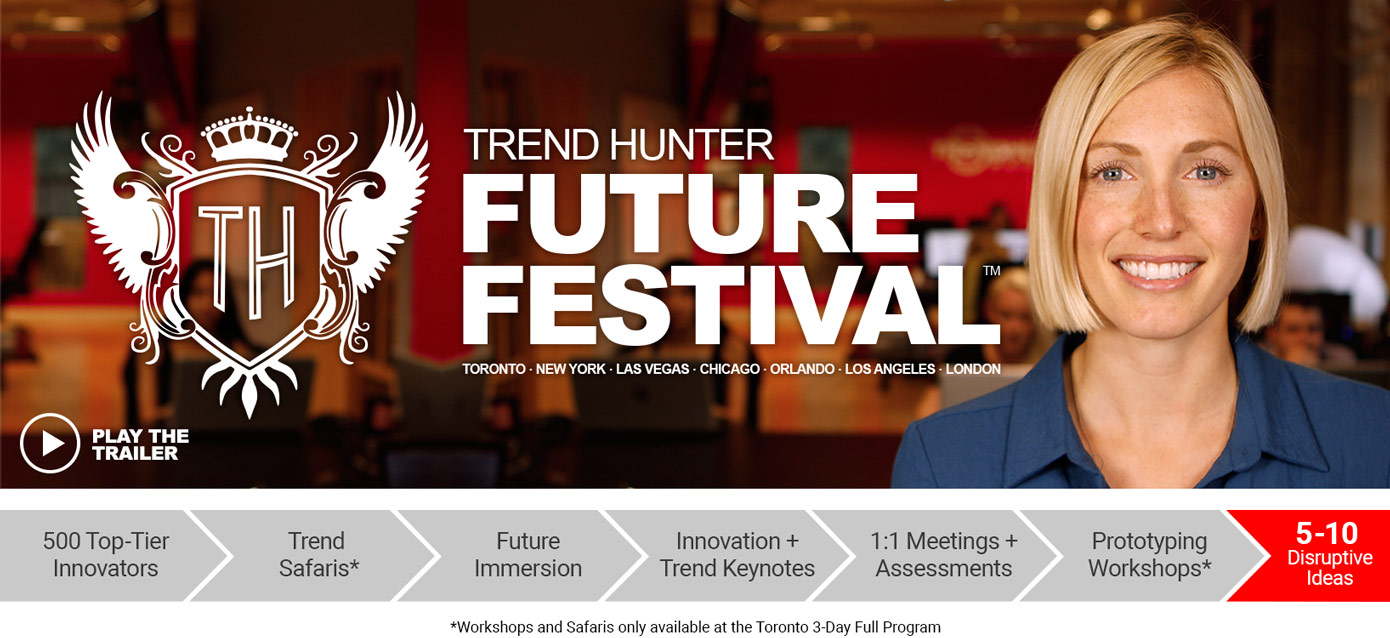 Trend Hunter's Future Festival is specifically designed to be the world's best innovation conference — a place for the world's top innovators to prototype their future. 97% rate it the best innovation conference ever with a stunning 85% rating it the best business event in all categories. You'll experience next year's trends from the #1 trend firm, while prototyping 5 - 10 disruptive ideas using the same award-winning innovation workshops we've used to help NASA prototype the journey to Mars." – Jeremy Gutsche, CEO & NY Times Bestselling Author
ACT SOON:
1 Weeks Left for Early-Bird Pricing!
Download a Brochure
Register Now
Future Festival Trailer
100,000 views
Keynote Speaker Jeremy Gutsche
6,000,000 views
Our Megatrend Framework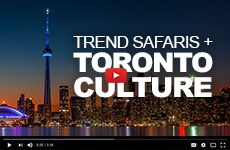 Trend Safaris
Toronto Only
"The
best, most engaging and most relevant
business event I have ever attended." – Chief Strategy Officer & SVP of Marketing
"Hands down,
the best
way to experience innovation and the future."
– Consumer Insight Specialist
"The
best event I've ever attended
, and we go to motorcycle races." – Head of Sensing and R&D
"Future Festival is a concentrated dose of inspiration and insights. This event is a
must-attend
!" – Associate Brand Manager
"No service out there captures Consumer Behavior as well as Trend Hunter" – Creative Development Manager, Ideation
"An
incredible experience
that left me fueled and supported with new tools." – Creative and Business Development
"Future Festival
created opportunities
for our team and expanded our people's thinking." – CEO
"Undoubtedly the
most meaningful conference
I've ever attended." – VP of Sales
"Any senior executive would
benefit hugely
from taking a couple of days and attending Future Festival." – Global VP of Innovation
For context, Trend Hunter is the world's #1 largest, most-popular trend firm and this is our EPIC innovation conference series
We accelerate innovation for 500 brands, billionaires, CEOs & NASA
#1 Most Popular Trend Site
= 3 billion pageviews & BIG DATA from 140,000,000 people
#1 Largest Trendspotting Network by 15x
- an army of 200,000 hunters
Founded by NY Times Bestseller Jeremy Gutsche, a
top innovation keynote speaker
WHAT'S DIFFERENT?

Unlike other conferences, the festivals are highly-choreographed, takeaway-focused immersions

EXPERIENCE THE FUTURE vs. PASSIVELY LISTENING
30 CORE CONCEPTS vs. DISJOINTED MATERIAL
DOWNLOADABLE PRESENTATIONS vs. TAKE-YOUR-OWN NOTES
PERSONAL ASSESSMENTS vs. GENERIC CONTENT
ONE-ON-ONE ADVISOR TIME vs. LACK OF FOLLOW-UP
100% ENERGETIC & ACTIONABLE vs. RANDOM & OUTDATED
CULTURAL SAFARIS vs. VENDORS
WORKSHOPS WITH YOUR TEAM vs. LIMITED TAKEAWAYS


Download a Brochure
STEP 1 - COLLIDE

You'll join the world's top innovators (no vendors) to experience the future before it happens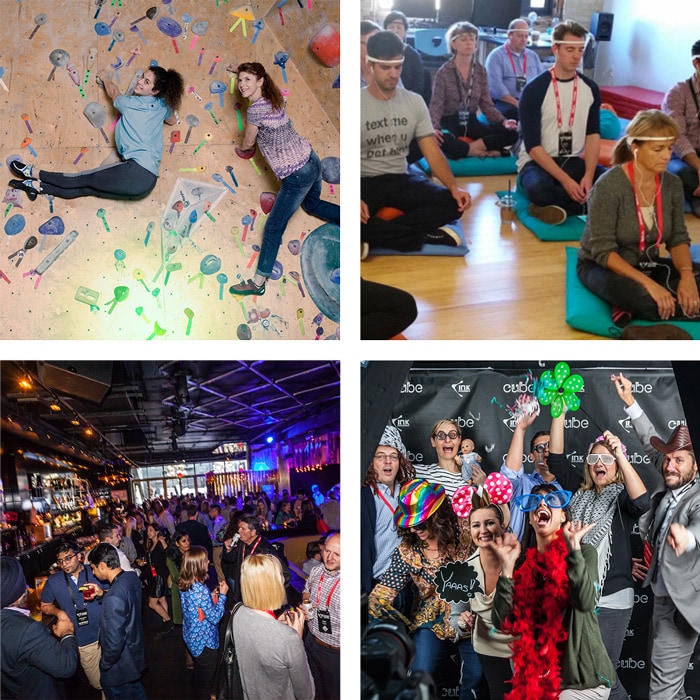 STEP 2 - INNOVATION CONFERENCE CONTENT

Sharpen your innovation skills with one of the world's top innovation keynote speakers
Our CEO, Jeremy Gutsche, is a New York Times bestselling author who has become an advisor to over 500 brands, billionaires, CEOs & NASA. As one of the world's top innovation keynote speakers, he'll kick-off the event with an unparalleled level of energy.


MORNING - How to Spark a Revolution
By the end of this decade, only 40% of the Fortune 500 will still exist in a meaningful way. Jeremy disects why to give you a series of tactics and methods you can use to make change happen, setting the innovation conference mindset.


END OF DAY - Better & Faster - Better at Change, Faster at Ideas
Based on his New York Times Bestseller, Jeremy will teach you to be BETTER and FASTER, with tactical takeaways, thought-provoking frameworks & workshop questions.


STEP 3 - MEGA TREND CONFERENCE CONTENT

Learn how to leverage the 18 most important megatrends shaping our world
Leveraging our big data from 140,000,000 people, we've built the most researched, most data-driven system for identifying opportunities. This unparalleled research led us to 6 patterns of opportunity and the 18 most important mega trends shaping our future.
In this keynote, our CEO will explain how to apply the 6 patterns to any industry, and then more specifically how the resulting mega trends conference content can be leveraged when you return home. For continuity, the rest of the trend conference builds upon these frameworks, deep diving into the top megatrends throughout the rest of the day.
STEP 4 - TREND CONFERENCE CONTENT

Discover your breakthrough as you explore next year's trends with the #1 trend firm
In this part of the day, we get more specific, shifting from innovation and megatrends content to trends conference content in a highly visual, example-filled exploration of new ideas.
• Demographics: Zees, Boomers, Millennial research taught by millennials
• Tech & Social: Apps, Media, Beacon, In-Store, VR, 3D, Drones
• Preference: Influence, Culture, Direction, Design
• Consumer Mindset: Demographic Shifts, Underlying Drivers
• PLUS: Trend Reports are Included Throughout the Innovation Conference

STEP 5 - PERSONAL ASSESSMENT

Supercharge your development with 7-10 pages of personalized recommendations from our innovation assessment
Get a personalized innovation experience with 5-10 pages of custom insight about your innovation archetype, how you innovate, your strengths and your blindspots. The innovation conference keynotes will dive deeper into what this means, but you'll leave the conference with personalized insight and if you bring a team to the event, you can get an organizational assessment to compare your team's behaviours and compision to the world's top innovators. The end result is to make this more than just a conference on innovation, but rather a training program with a remarkable level of personalization.
STEP 6 - 1:1 CONSULTATIONS (VIP & Clients)

Explore deeper in a 1:1 consultation with our research advisors & innovation experts
Before and after the innovation conference, you'll meet with your brand's dedicated advisor or one of our innovation experts to chat about your latest projects or tap our brains for other ways we can help you to inspire your next big idea. If you send a team, you can also use this time to chat about your team's innovation assessment. (Note: one consultation per brand)
STEP 7 - LEARNING CONTENT

Return home with actionable takeaways and $4k in tools, research and presentation materials
TORONTO ONLY

- TREND CONFERENCE SAFARIS

Choose from 30+ innovation experiences, each paired with trend research & networking
TORONTO ONLY

- INNOVATION WORKSHOP DAY

Develop 5-10 disruptive ideas using the same workshops we've used to help NASA prototype the Journey to Mars (87% left with 10+ ideas)
Learn the innovation methods Jeremy's used to help hundreds of brands, CEOs and NASA, which will be the definitive day that makes this the best innovation event you've ever attended.
• Higher Performance Innovation Methods for Your Brand
• How to Find Better Ideas, Faster
• Predicting the Pace of Change, Creating Urgency & Action
• Finding Overlooked Ideas Using The 6 Patterns & 18 Megatrends


Important: Send 6+ from Your Brand
• Focus All Exercises on YOUR Company at a Private Table
• Develop 5-10 Company Specific Innovation Ideas & 20+ Next Steps
• Get a Group Innovation Assessment to See Strengths, Gaps & Opportunities
• Return With a Common Understanding of New Tools, Frameworks & Tactics


Join Top Brands Sending Teams: Starbucks, Disney, Visa, Adidas, Domino's, Aflac, Staples, Netflix, Microsoft, Hasbro, Red Bull, Universal, Target, Pepsi, VW, Walmart, Bayer, Honda
TORONTO ONLY

- EXPERIENCE THE CITY

Optionally, stay to experience 100+ innovations & a 1,000,000 person all-night art party
TORONTO - Stay the weekend to enjoy Nuit Blanche, a 1,000,000 person all-night art festival that takes over the streets of our epic metropolis. PLUS, our Trend Hunter team curates a list of 100+ unique self-guided experiences in categories like retail innovation, technology, sports, flavor and fashion. This experience will reinforce the innovation conference concepts.

ALL OTHER CITIES - We'll have a dozen unique trend experiences per city, plus our team will be there before & after the innovation events for 1:1 consultations.
PICK A CITY & REGISTER NOW


Toronto
Festival
October 2016

Toronto
Festival
Sep 27-29, 2017

Los Angeles
Conference
March 7

Las Vegas
Conference
March 9

New York
Conference
March 14

Chicago
Conference
March 16

London
Conference
March 30

Orlando
Conference
April 6

Ask a Question
Download a Brochure