Our 2-Day Media & Entertainment
Innovation Conference
From March 22-23, learn about the future of Media & Entertainment with top innovators>.

Trend Hunter's Media & Entertainment Innovation Conference provides a detailed look into consumer insights and trends in the media space, backed by data from the world's #1 trend firm. You will learn Trend Hunter methodologies to help you navigate industry changes, find overlooked opportunities, and prepare your team for the future. We can't wait to see you there!" – Jeremy Gutsche, CEO & NY Times Bestselling Author
Our Media Innovation Conference
Our Media Innovation Conference explores the trends that are shaping the media space, arming your team with the tools needed to get ahead of the competition. Network with top innovators as you learn how to approach media innovation from a new perspective. Our keynote content will provide key insight into emerging trends in the media space, covering topics such as new-wave social media, consumer psychology, authenticity in marketing, and much more!

You will also get the opportunity to hear from industry leaders on our media panel as they offer real-world insight on how they navigate innovation within their organizations. You can also get a hands-on approach to innovation with deep-dive into our keynote content during our innovation workshop. This work session will let you workshop new ideas, providing actionable takeaways to bring back to your team once the conference is over. Plus, our high-value takeaway materials make it easier than ever to share what you've learned with your team following our event.
Identify next steps with a Trend Hunter workshop, designed to guide disruptive thinking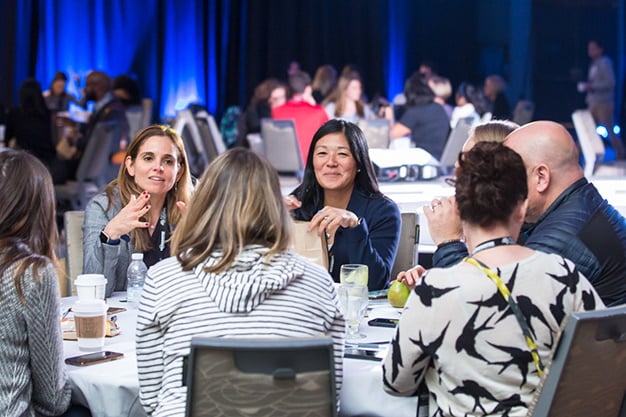 Trend Hunter's workshop sessions bring innovation to life, teaching key innovation tactics to help all attendees find their next big idea and pursue it with confidence.

Learn how to spot the trends that exist around us to identify untapped opportunities and better address consumer desires. These sessions provide a hands-on introduction on how to innovate, giving you the tools to spark a culture of innovation within your own organization.
Our Media Trend Report will help your team think ahead of the curve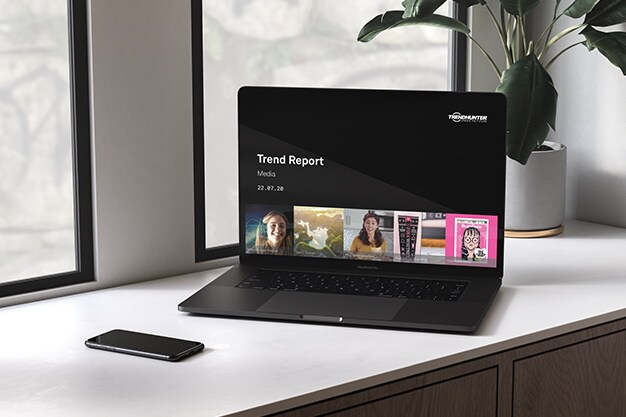 Your team can accelerate innovation with the findings in our Media Trend Report. This report highlights the Top 50 trends that are shaping the direction of the media industry for 2020 and beyond, based on crowd-filtered consumer insights and AI-driven research.

Gain insight into the broad shifts that are moving the industry forward, and analyze key opportunities with hyperlinked examples, relevant data, and demographics to help you identify their impact.

Trend Hunter helps over 750 brands with reports just like this, aiding organizations in finding overlooked opportunities and giving them the data to pursue their innovative ideas with confidence.
Live YouTube Stream & 2021 Trend Report
•
•
•
•
Full Experience, Event Platform and Smaller Networking Groups
•
•
•
DAY 2: Category Deep Dives & Scenario Planning
Get Immersed in the Category of Your Choice, in a Learning Group of ~20
•
•
•
Morning Session: Innovation Culture, Creating Action & The World in 2021
•
•
•
Category Trend Report PPT (Choose from 30+ Categories)
•
•
•
Category Trend Immersion, Report Walkthrough & Workshop
•
•
•
Prepare 2021 Scenarios in a Special Workshop with Jeremy Gutsche
•
•
Develop Actionable Plans and Next Steps in Groups of 5+ (or with Your Team)
•
•
200 Page Speaker Highlights (PPT)
•
•
•
3 Month Trial of Trend Hunter PRO Content
•
•
•
3 Month Trial of Trend Hunter eLearning (114 modules/12 hours)
•
•
•
140-Page Event Workbook
•
•
•
VIP Extras - Trend Report Bundle
Bonus Custom Trend Report (worth $2,000 - limit 1 per brand)
•
•
Speaker Q&A Sessions (VIP Only)
•
•
1:1 Team Meeting or Call with an Advisor
•
•
Team Innovation Assessment Overview
•
•
SVIP Extras - Strategic Planning Bundle
The Premium 5 Year Trend Report (worth $10,000)
•
Up to 6 VIP Tickets for Your Team
•
Act Now! 3-for-1 Tickets end on Feb 2nd
3-For-1
3-For-1
$199
$2,997
$5,997
$19,999
Reserve Before
They're Gone
For 3 Tickets
(Save $2,000
For 3 Tickets
(Save $4,000)
For 6 Tickets
(Save $10,000)
NOTES: All prices are in USD. All ticket sales are final. However, if you notify us by email at least 1 week advance, tickets are transferable to other coworkers or events within 1 year.
Custom reports with the purchase of a VIP ticket are limited to a maximum of 1 report per brand and 1 report per purchase. Bonus Custom Reports must be requested between now and 45 days after the event. Conference details are subject to change.
As the situation surrounding COVID-19 changes daily, we have updated our refund policy so that you can feel totally confident when purchasing an event ticket.
If your event gets rescheduled to a future date, you will have a choice between the following options:
Transfer your ticket to the newly scheduled date
Transfer your ticket to any other 1-Day event in a different city (within a 1-year period)
Gain access to our Future Festival Virtual event option (+ 3 months of access to Trend Hunter's eLearning Platform for General ticket holders)
If your event is canceled with no future scheduled date, you will be entitled to the alternate ticket options above or a full refund.