Our 2-Day Chicago CPG
Innovation Conference
On March 30-31, join top innovators in Chicago to learn about CPG trends.

Our Chicago CPG Innovation Conference presents the best of Trend Hunter's frameworks and consumer insights to explore the future of consumer packaged goods. Our keynote content will help you master Trend Hunter frameworks, giving you the ability to decode emerging trends and stay ahead of the curve. We can't wait to see you there!" – Jeremy Gutsche, CEO & NY Times Bestselling Author
Our Chicago CPG Innovation Conference
Our CPG Innovation Conference offers key insight into the world of consumer packaged goods. Hear from our roster of innovation speakers as they speak to shifts in consumer preferences and present key innovation tactics to help you stay ahead of the competition. Learn how industry shifts have changed "foodie" culture, how a preference for authenticity has inspired new approaches to marketing, and see how CPG industry trends can be broken down with Trend Hunter's 18 Megatrends to shed insight into evolving consumer needs. Plus, much more!

This 2-day event will feature a panel session where industry leaders will present real-world examples of how they innovate, and a workshop session that will provide actionable takeaways to accelerate the pursuit of your next big idea. Our Future Party experience will also help to spark inspiration, allowing you to network with fellow CPG companies as you explore industry-shifting products and experiences firsthand. Plus, all conference attendees will walk away with $4000 in takeaways, making it easier than ever to share your Innovation Conference experience with your colleagues following the event.
Experience emerging trends firsthand at our Future Party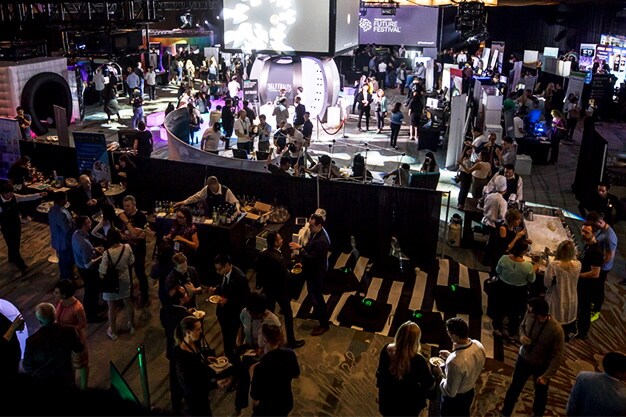 Kickstart innovation by immersing yourself in some of the world's most innovative technologies. Our Future Party features a multitude of vendors whose products and experiences represent emerging trends that are shaping our world today. Explore new technologies while networking with fellow attendees and vendors who are changing the game with new approaches to addressing consumer needs. Future Party activations typically include:

• VR, AR, and Mixed-Reality
• Flavor Experimentation and Culinary Innovation
• Exploratory Cocktails
• Artificial Intelligence and Chatbots
• Retail Innovation and Marketing Applications
• Lifestyle and Connected Home Technology
• Brand-Inspired Speakeasies with Experiential New World Cocktails
• Big Data Visualization and Trend Hunter's Methodologies

Uncover new ideas and learn innovation tactics with our CPG Workshop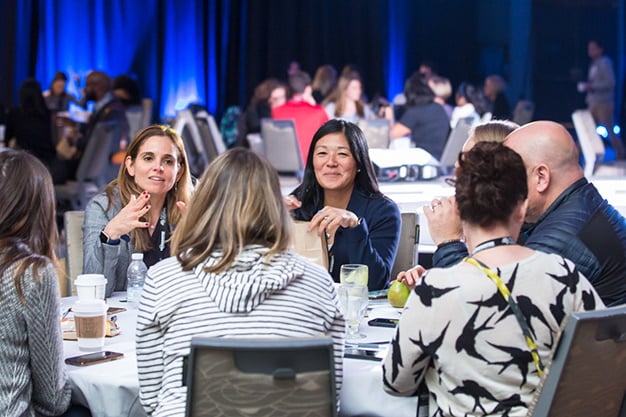 Fueled by data-driven content and tested Trend Hunter methodologies, our CPG workshop session will bring innovation to life, allowing attendees to ideate new ideas and test them in a hands-on way.

Spark innovation as you work with scenarios relevant to the CPG industry and real-world case studies to better focus your learning. By the end of the workshop, you will have mastered our reusable frameworks so you can begin to recognize the trends that are shaping our world.

Workshop attendees will walk away with actionable ideas, prepared to spark a culture of innovation within their own organizations.
Receive our CPG Trend Report, fuelled with data from the worlds #1 Trend Firm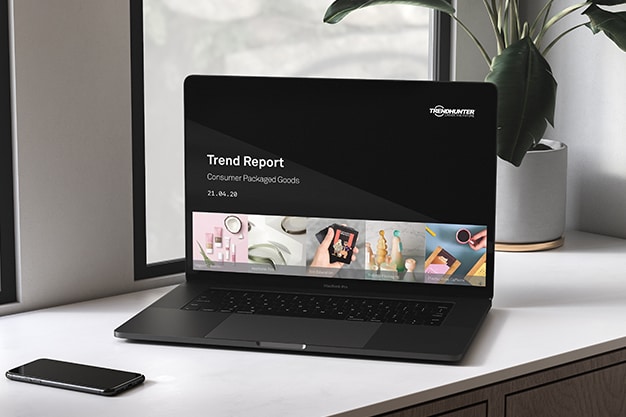 Our CPG Trend Report will get you inspired, diving deep into the Top 50 trends emerging in the CPG industry.

Our trend data is sourced from a 150,000,0000 person focus group, using crowd filtering and AI to identify the key trends and consumer insights that are causing disruption. You'll get access to samples of data-driven consumer insights with hyperlinked examples and demographic info to help you see how emerging trends are making their impact.

This trend report is a sample of the custom research Trend Hunter uses to help over 750 brands find untapped opportunities and uncover their next big idea.
Why visit? We'll suggest more than a dozen innovation hotspots for you to explore following the Chicago CPG Innovation Conference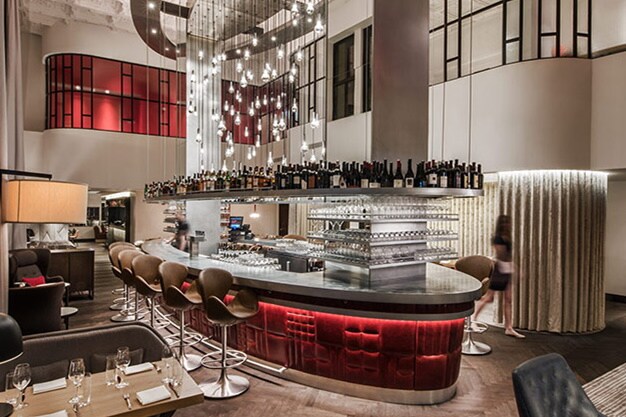 There are plenty of sights to see while visiting Chicago for our CPG Innovation Conference. Following the conference, check out cultural hotspots such as the
Design Museum of Chicago
or the
American Writers Museum
. You can follow up your visit with a drink at
Eno
, where you can sample award-winning wine and enjoy their expansive cheese and chocolate menu. If you're looking for something more adventurous, experience flavor innovation at
Alinea Restaurant
, whose menu focuses on molecular gastronomy with a variety of traditional foods that are deconstructed into new shapes, colors and textures.
Plus, explore a dozen more unique hotspots in Chicago with our exclusive CPG Innovation Conference workbook!
Innovation Conference Locations
The Arclight Cinema is located in the Lincoln Park neighborhood of Chicago. Dedicated to redefining the movie theatre experience, the venue is equipped with a number of extras. The Cafe, for example, offers guests a selection of wines, bottled beers, and cocktails.
Arclight Cinemas at NewCity
1500 N Clybourn Ave, Chicago, IL 60610
Schedule for Chicago Innovation Conference 2020
Day 1
Breakfast + Registration
Super Future Keynote
Break
Forecasting Micro-Generational Desire
Rewriting the Rules of Retail
Lunch
Day 2
Unpacking Consumer Behaviour
Cracking the Leisure Code
Marketing in the Crisis of Authenticity
Break
Future-Proofing Work Culture
Innovating Through Ritual
Networking + After-Party
Day 1
8:50 am
Super Future Keynote
We are currently living through history's highest ever rate of change, and seemingly far off innovations will be here sooner than we think. In this session, Jeremy will prepare you for the Super Future, where AI, VR, and other evolving technologies could soon reign supreme.
10:50 am
Forecasting Micro-Generational Desire
Generational thinking gets an update through a new approach to segmentation. Deep-dive the Micro-Generations to uncover the answer to what today's consumer truly desires and why.
11:40 am
Rewriting the Rules of Retail
Inspect the motivations behind consumers' purchasing behaviors and what it means to offer a purposeful retail experience. What can you do to become more customer-centric?
Day 2
1:10 pm
Unpacking Consumer Behaviour
Learn how opposing trends are competing to shape consumer psychology and behavior. How is your brand plugging into major cultural shifts?
2:00 pm
Cracking the Leisure Code
To learn what consumers really want, look no further than what they do in their free time. Find out what motivates consumer leisure choices and what they mean for your business.
2:30 pm
Marketing in the Crisis of Authenticity
Explore how marketing has changed to reach an age where traditional tactics no longer exist. What is the best way to capture the attention of a consumer who craves authenticity?
3:40 pm
Future-Proofing Work Culture
Deep-dive the new definition of work/life balance using Trend Hunter's Innovation Assessment. What does today's consumer – perhaps even your own employees – consider a good corporate culture?
4:10 pm
Innovating Through Ritual
Explore case studies of how the most innovative people productionize out-of-the-box thinking within their teams. Are our imagined orders helping or hurting innovation? How can you create new ones?
200 Page Powerpoint Highlights
•
•
•
140-Page Future Book & Megatrend Framework
•
•
•
Better & Faster Signed Book
•
•
•
Keynotes, Parties, Breakfasts, Lunches, Drinks & Snacks
•
•
•
2020 Trend Report (Worth $1,500)
•
•
•
1 Year of Trend Hunter PRO Content (Worth $2,388)
•
•
1:1 Meeting or Call with an Advisor
•
•
Team Innovation Assessment Overview
•
•
1 Year of Trend Hunter Learning Platform
•
•
Bonus Custom Trend Report (Worth $2000)*
•
VIP Lunch with Jeremy Gutsche
•
Non-Clients
$1,299
$1,599
$2,099
Advisory Client Discount
$899
$1,399
Check if You're a Client HERE
Save 44%
Save 33%
NOTES: All prices are in USD. All ticket sales are final. However, if you notify us by email at least 1 week advance, tickets are transferable to other coworkers or events within 1 year.
Custom reports with the purchase of a VIP ticket are limited to a maximum of 1 report per brand and 1 report per purchase. Bonus Custom Reports must be requested between now and 45 days after the event. Conference details are subject to change.
As the situation surrounding COVID-19 changes daily, we have updated our refund policy so that you can feel totally confident when purchasing an event ticket.
If your event gets rescheduled to a future date, you will have a choice between the following options:
Transfer your ticket to the newly scheduled date
Transfer your ticket to any other 1-Day event in a different city (within a 1-year period)
Gain access to our Future Festival Virtual event option (+ 3 months of access to Trend Hunter's eLearning Platform for General ticket holders)
If your event is canceled with no future scheduled date, you will be entitled to the alternate ticket options above or a full refund.