Our Virtual
Innovation Conference
Experience the future anywhere you are with Future Festival Virtual. You'll be inspired by a full day of our top trend and innovation content from Future Festival World Summit, our best innovation conference. Uncover your next big idea, today!

Our brand new Future Festival Virtual event brings our 1-day innovation conference experience to you in the comfort of your home or office. You'll gain access to full-length video recordings of our top-rated keynote presentations, our complete takeaway deck, and more. Join us online and discover what's next for today's biggest industries!" – Jeremy Gutsche, CEO & NY Times Bestselling Author
WHAT'S DIFFERENT?

Our virtual event provides you with engaging, takeaway-focused content whenever and wherever you want it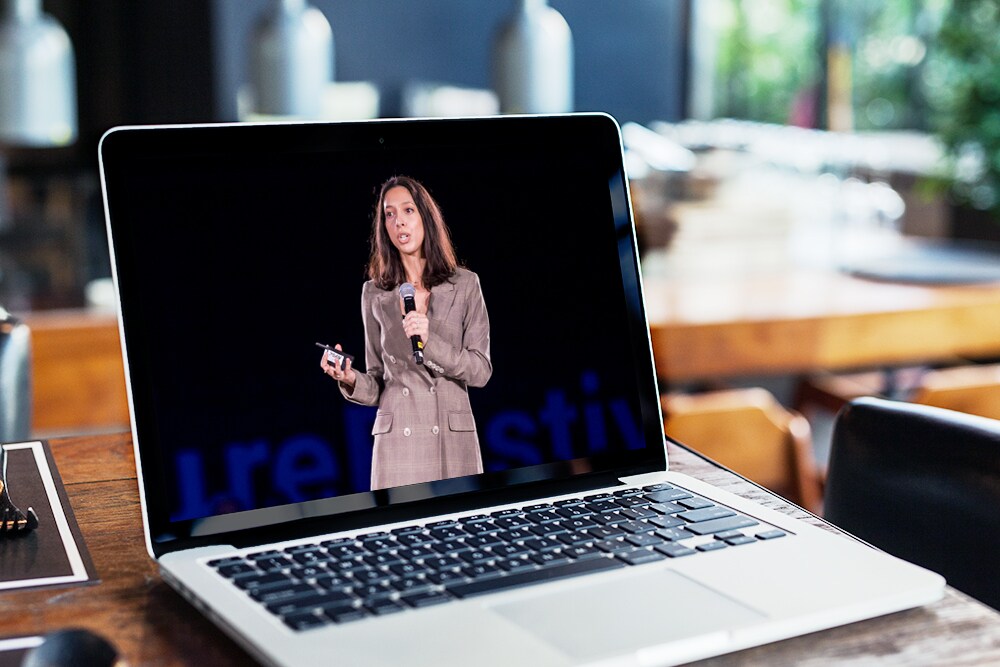 ON-DEMAND ACCESS
vs.
DAYS AWAY FROM WORK
100+ DATA-DRIVEN INSIGHTS
vs.
OUTDATED MATERIAL
DOWNLOADABLE PRESENTATIONS
vs.
TAKE-YOUR-OWN NOTES
PERSONALIZED ASSESSMENTS
vs.
GENERIC CONTENT
ENERGETIC & ACTIONABLE
vs.
DRY & DISJOINTED
Learn More
Sample Video and Overview

Our Virtual Innovation Conference

Future Festival Virtual is a takeaway-packed business event that lets you experience the world's #1 innovation conference entirely online. This one-of-a-kind digital conference gives you the flexibility to watch our innovation keynotes anytime, anywhere, without sacrificing quality of learning.

Our extensive virtual content will teach you how to harness trends and industry shifts to accelerate innovation and make your next big idea a reality. Our seasoned team of Futurist presenters explore cross-industry topics including high-impact marketing, innovation tactics, consumer behavior, generational trends, evolving technology and more.
Here's a sample of our content from Future Festival Virtual. Each of the videos are cut in a similar style, to bring our World Summit conference to video in an engaging style.

Virtual Conference Overview
The full day virtual program gives you access to our content program from Future Festival World Summit, with topics including: Innovation, the Future of Life, Future of Retail, Future of Entertainment, Technology, Marketing, Leisure and more.
HOW TO CREATE THE FUTURE: Tactics for Disruptive Thinking - 2 hours
We are currently living through history's highest ever rate of change, and seemingly far-off innovations will be here sooner than we think. In this session, Jeremy will prepare you to thrive by teaching you how to think about how chaos reshapes your potential, and how to think about choosing your optimal path.
FUTURE OF GENERATIONS: The Evolution of Millennials, Boomers, Xs & Zs - 1 hour
In this keynote, generational thinking gets an update through a new approach to segmentation. We'll dive into the Micro-Generations, analyzing the impactful events of their formative years to pinpoint what these groups desire as consumers.
FUTURE OF WORK: Experience, Excellence & Engagement - 30 minutes
Explore the new definition of work/life balance, backed with data from Trend Hunter's Innovation Assessment. We'll explore the 4 E's of Modern Work Culture, build a definitive picture of what the Future Workplace will look like, and showcase how to implement emerging trends within your own organization.
FUTURE OF PLAY: Future of Leisure, Nightlife and Entertainment - 30 minutes
To learn what consumers really want, look no further than what they do in their free time. In this session, we'll outline growing trends in consumer leisure choices, analyzing the internal and external motivators behind what consumers define as fun today.
FUTURE OF LIFE: Lifestyle Trends, Wellness & The Future Family - 1 hour
How is your brand plugging into major cultural shifts? In this presentation, we'll look at trend tensions - opposing trends that exist simultaneously and speak to singular consumer desires - and how these dual-forces are shaping consumer psychology and behavior.
TACTICS: Innovation Tactics, Frameworks & Best Practices - 30 minutes
Our lives are often defined by imagined orders - conceptual hierarchies we put in place to guide our modes of action. This keynote explores the way imagined orders help and hurt us, with real case studies from leading brands who have overcome imagined orders to create a culture of innovation.
FUTURE OF MARKETING: Hyperconnectivity & Becoming Consumer-Centric - 30 minutes
With a preference for authenticity among consumers reigning supreme, traditional marketing tactics are no longer adequate for the modern audience. This keynote explores the best way to capture consumer attention today, with real-world examples of brands that are taking innovative marketing approaches.
FUTURE OF SHOPPING: Retail Innovation, Omnichannel & Marketing - 30 minutes
What motivators are behind the purchasing decisions of today's consumer? Discover how growing desires for eco-consciousness, experience, and curation in retail are facilitating the creation of more meaningful experiences between consumers and brands.
THE SUPER FUTURE: AI and An Accelerating World - 30 minutes
Where is the world heading, and what can you actually do about it? What are the ways that AI will combine with other technologies, such as: mind-reading, 3d printing, interface, sustainability, robots and 3d printing? How do you think about an accelerating world?
BONUS: PRO & VIP Tickets Only

Upgrade to PRO for 1 Year of Access to eLearning and Our PRO Dashboard

Dive much deeper into our content with hours of lessons in our Future Festival eLearning program. This sample video video gives you a sense of the content style. You'll also get access to all of our premium content, trend report library and the world's #1 Trend Dashboard. You can use your dashboard to inspire your big idea, track key markets, unlock 7,000 premium insights and learn need-to-know trends.

Learn About The Trend Dashboard
$199 coupon for Future Festival World Summit
•
•
•
200 Page Powerpoint Highlights
•
•
•
2020 Trend Report (Worth $1,500)
•
•
•
1 Year of Trend Hunter PRO Content (Worth $2,388)
•
•
1:1 Meeting or Call with an Advisor
•
•
Team Innovation Assessment Overview
•
•
1 Year of Trend Hunter Learning Platform
•
•
Bonus Custom Trend Report (Worth $2000)*
•
Virtual ticket sales are final as this is a video product. Please note that this program is structured to give you 10 days to complete the training from the day you sign-up.
*Custom reports with the purchase of a VIP ticket are limited to a maximum of 2 reports per brand. Bonus Custom Reports must be requested between now and 45 days after purchase. Conference details are subject to change.